Exhibits and Events





UPEX Shipping and Gift Center
107 Central Park Square
Los Alamos, NM
(505) 662-3119
Monday thru Friday 8:00 to 5:15
Saturday 9:00 to 2:00 Several of my photos are on long term display.
---
Johnson's Gallery of Madrid
Madrid, New Mexico Photos currently on long term display. Upcoming show: May, June, and July of 2004
---
New Mexico Magazine, January 2004 Issue
A winner for the second year in a row in the New Mexico Magazine annual photo contest.




Taos Mountain Rainbow and Frolicking Horses
---
Multiple Prize Winning Photograph
New Mexico Magazine, January 2003 Issue

The Twilight at Black Mesa photo won second place in the second annual New Mexico Magazine photo contest. Contest winners will be featured in the January 2003 issue.
This photo also won Grand Champion and First Place in the Semi-Pro Category in the 2002 Los Alamos County Fair.

Twilight at Black Mesa
---
October 25th through November 23rd, 2002
Los Alamos Photography Club Showcase
In the Gallery at the Arts Center at Fuller Lodge
Los Alamos, New Mexico Six LAPC photographers will each display eight to twelve photographs that presents a cohesive theme (each photographer will have their own theme), e.g., a fully developed idea, an exploration of a subject matter or a technique.I displayed ten wide angle and panoramic photographs that are created by combining two or more images (using image editing software) that were taken with a digital camera.
---
October 3, 2002
A Taste of Autumn Silent Auction
UNM-LA Scholarship Fundraiser
Balagna Winery, Los Alamos, New Mexico I donated a matted and framed photograph to be auctioned.
---
September 14th and 15th, 2002
Chimayo Festival of Arts Studio Tour
Chimayo, New Mexico
---
August 10th and 11th, 2002
The Los Alamos County Fair
Mesa Public Library, Main Gallery, 2nd floor
Los Alamos, New Mexico These two photos were entered: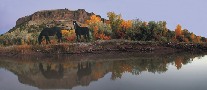 Twilight at Black Mesa
This Photo Won Grand Champion and First Place in the Semi-Pro Category


Sand Dunes Moon
This Photo Won Second Place in the Semi-Pro Category
---
Feb. 7, 2002 thru March 1, 2002
Los Alamos Photographers' 2002 Show "The Eye of the Beholder"
Mesa Public Library, Main Gallery, 2nd floor
Los Alamos, New Mexico
---
Los Alamos Photography Club (LAPC) A club exploring all aspects of photography, from traditional to digital. Meets on the third Monday of each month at 7:00 p.m.
Meetings are held at the Art Center at Fuller Lodge, 2nd floor, South wing.
Enter by the outside stairs at the South end of the building. Meetings will include discussions, presentations, scheduling events, and print viewing sessions. Contact me for more info:
Danny Gallant at danny@gallantphotography.com
---